In an exciting turn of events, Beyond The Valley 2014 has just expanded its already impressive lineup with the addition of several highly acclaimed artists. Today, festival organizers announced the inclusion of Allday, Danny Brown, Hermitude, Tourist, Holy Holy, Mansionair, and more, further elevating the musical experience for attendees. With these latest additions, the total number of artists set to grace the stages at Beyond The Valley has reached an impressive 48.
Allday, the Australian rapper known for his catchy hooks and introspective lyrics, will bring his unique style to the festival, ensuring an unforgettable performance. Joining him is Danny Brown, the boundary-pushing rapper from Detroit, renowned for his charismatic stage presence and thought-provoking verses. The dynamic electronic duo Hermitude is set to deliver a high-energy set, blending elements of hip-hop and electronic music with their signature flair.
Tourist, the British producer and songwriter, will showcase his mesmerizing blend of electronic and ambient sounds, captivating the audience with his intricate melodies. Meanwhile, Holy Holy, the indie-rock sensation, will bring their infectious energy and soaring guitar riffs to the stage, promising an immersive live experience. Mansionair, known for their ethereal soundscapes and haunting vocals, will create an atmospheric ambiance that is sure to captivate festival-goers.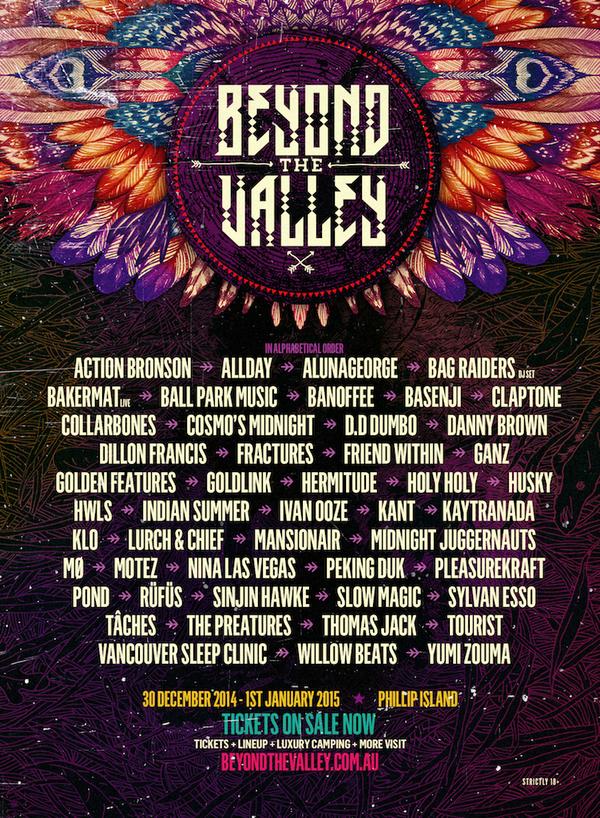 These new additions join an already impressive lineup, including Alunageorge, Bag Raiders, Claptone, Cosmo's Midnight, Kaytranada, Nina Las Vegas, Rufus Du Sol, Ball Park Music, Golden Features, Action Bronson, Peking Duk, and The Preatures. With such a diverse and talented roster of artists, Beyond The Valley 2014 promises to be an extraordinary celebration of music and a memorable way to ring in the new year.