In a stunning celebration of the heritage of club music and culture, the iconic Ministry of Sound is set to embark on its epic national tour, TESTAMENT, spanning from August 4-13, 2023. The tour is a tribute to the pulsating beats and vibrant late-night scenes that blossomed across Australia and New Zealand, tracing its roots from the colourful days of acid house, through the dynamic rave scene of the 90s, to the pulsating clubbing heyday of the 00s.
The tour will showcase a spectrum of globally acclaimed artists who have shaped club culture over the years. Audiences can look forward to performances from house music queen Barbara Tucker, Detroit Techno pioneers Inner City, English DJ/Producer Tall Paul, and Phil Hartnoll from UK's legendary acid-house-meets-trance duo, Orbital. A journey into the 00s club life will feature electro-punk pioneers The Bloody Beetroots, Kitsuné darlings Digitalism, and breakbeat legends FreQ Nasty, Stanton Warriors, and Skool of Thought.
Adding to this eclectic mix are Australian DJ favourites synonymous with Ministry of Sound, such as Goodwill, John Course, Groove Terminator, Bang Gang Deejays, and Mark Dynamix.
Further enriching this journey through time, Ministry of Sound is partnering with lifestyle brand CUPRA. Celebrating a new generation of sustainable mobility, CUPRA will launch their 100% electric vehicle, Born, during the tour.
Tour Dates and Locations
Sydney: August 5th - 6th, Overseas Passenger Terminal
Melbourne: August 12th - 13th, The Timber Yard
Perth: August 5th & 11th, Metro City
Brisbane: August 4th & 12th, Warner Laneway, Fortitude Valley
Adelaide: August 4th, UniBar ADL (00s show only)
Gold Coast: August 13th, Miami Marketta (00s show only)
Auckland: August 4th, Studio, Auckland (90s show only)
For ticketing details and more information, visit Ministry of Sound Ticketing. Pre-sale registrations close on Monday, May 29th, with the Ministry of Sound pre-sale starting from Tuesday, May 30th, and general admission tickets available from Wednesday, May 31st.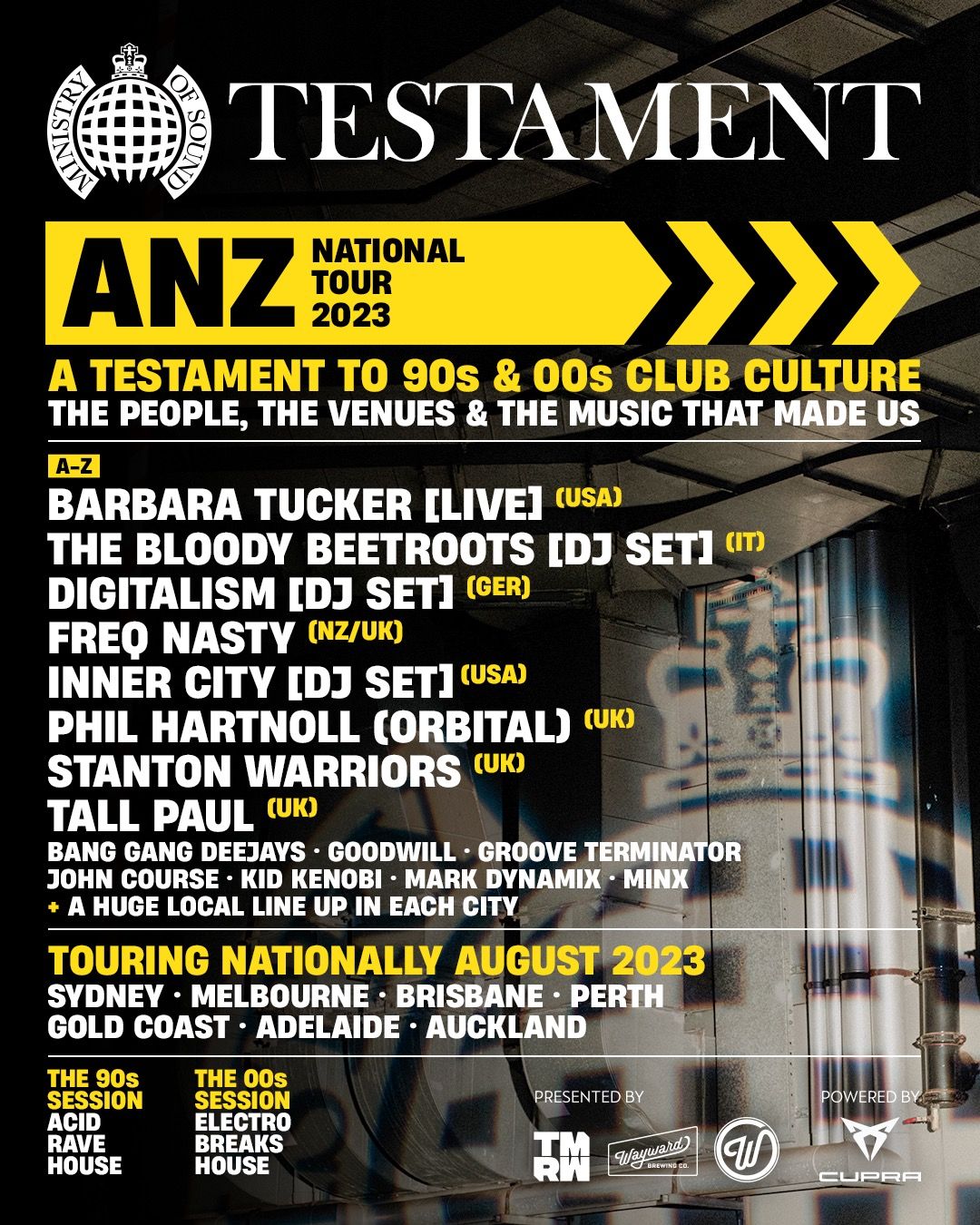 Join the TESTAMENT tour to celebrate and revisit the iconic moments that have defined the evolution of club culture in Australia and New Zealand.