This year's Maiden Voyage Festival is set to take the London music scene by storm with the announcement of its eagerly-awaited stage splits. Scheduled for August 27th at the Lee Valley Park, the festival brings together a rich tapestry of music, capturing the essence of three favourite London nightclubs, adding a hint of Berlin, and sprinkling in some world groove for an unforgettable dancefloor experience.
Tickets for Maiden Voyage 2023 are now available, with prices starting at £35.00 for entry before 4pm and £60.00 for entry before 6pm.
Here are the stage splits for Maiden Voyage 2023:
Main Stage (Maiden Voyage): Jyoty, Casisdead, Sainté, Felo Le Tee, Juls, C.frim, 99Ginger DJs
Plant Room (Hör Berlin): DJ EZ, VTSS, Herrensauna XXL (SPFDJ, CEM, MXMLXXXV), Interplanetary Criminal, Nooriyah
Big Top (The Cause): DJ Boring, Logic1000, Nicola Cruz, Acemo, Hiroko Yakamura, The Cause Fm
The Switchyard (Phonox): Job Jobse, Moxie, Soichi Terada, Dj Sprinkles
This year's lineup guarantees an incredible diversity of talent, ensuring that all festival-goers will find something to vibe to. With the dancefloor experience being at the forefront of the festival's planning, Maiden Voyage 2023 is gearing up to be an unmissable event.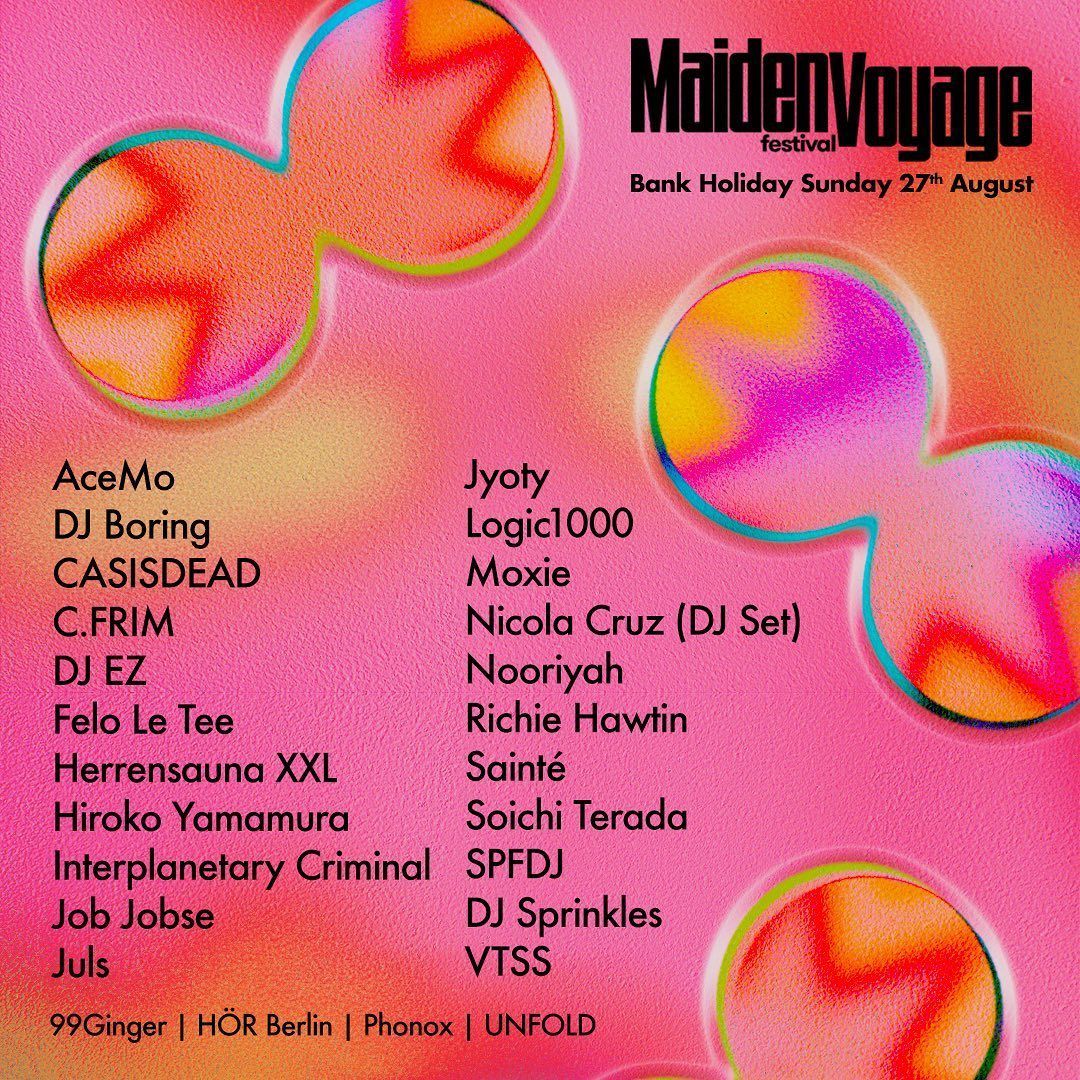 Secure your spot and join us for an unforgettable musical journey on August 27th. Don't sleep on it - the Maiden Voyage Festival 2023 is a must-attend event for music enthusiasts. See you there!